On the top of my monitor in the Retreat, on one side, is a stuffed Lion named Leo that I bought Ads when he was a baby. He has a piercing just above his left nostril. On the other side is a jolly little fat chinese man who is a symbol of prosperity. In the middle sits a dear old duck called Delilah with a face that looks like it's been sucking lemons for 60 years. She must be Queen of something - she wears a crown and purple robes. She's pretty flash in her crown and her jewels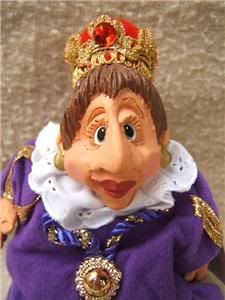 but I did mention lemons, eh?

On the right of my monitor is an old fashioned looking candlestick with an entirely intentional build up of wax drippings, a small fake marble container with a filigree top and a picture of a cute little girl of 18 months, sitting on her Nana's knee. On the left sits a picture of a Mum and Dad and 2 girls, the smaller one the same little girl as in the other photo, just a bit older.

40 years later, that little girl wonders how it all turned out like it did. Do you ever wonder why your life is this and not that? And if you could roll those years back again, what would you change?

I'd eat less corn chips just before bedtime, personally... it makes me understand stuff like this...and some of this and I find it a bit disturbing.