Don't for one minute think that rich people are smart people. They aren't. Especially not the sporty, blonde woman with the BMW who parked next to me at The Warehouse, Cameron Rd about 8.30 or 9pm last night.

Here's her pretty little car. She had a pretty little man in the front passenger seat; he watched me take the picture. I smiled at him.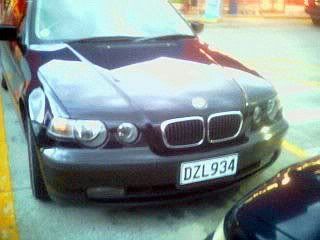 What's wrong with the sporty little blonde woman with the BMW? She's parked in a mobility car park space. Without mobility card.

I spoke to her you know, as she walked past me going into the shop. I said to her that she had a funny looking mobility card, and she said she didn't need one because it was after 5pm. I told her it wasn't a parking meter, that our disabilities last 24/7, just like the restrictions imposed by the symbol. I said that we pay to enjoy the restrictions it covers. She said she didn't know that and ran off into the shop rather than move her car to a more appropriate location.

So I took a picture of her car.

Because it was after 5pm.