From the "why are our youth so stupid"archives comes this wee gem


The house allegedly burgled before a dramatic police pursuit which ended in Waihi belonged to an explosives expert.

Explosives, detonators, a firearm and a $3000 Toyota Hiace van were allegedly stolen from the Ngongataha property about 12.30pm on Monday by a 19-year-old Rotorua man and an 18-year-old Tauranga woman, who is believed to be his girlfriend.

A dramatic police pursuit of the van began in Pyes Pa and spanned 150km, ending when police shot the gun-wielding man in suburban Waihi.

Police say the shooting was justified because the man aimed a gun at police officers, and continued to fire shots within the Waihi town centre, sparking concern for the public's safety.
Now, correct me if I am wrong, but We The Taxpayer (WeTT) just paid to supply a policing unit to maintain law and order; WeTT just paid the costs of chasing this fine specimen of society's treasure across the Western BOP and WeTT is now paying for him to languish in hospital, receiving specialist care at the expense of some poor Taxpayer who would have been a much more intelligent choice so that soon WeTT can house Precious at Her Majesty's Pleasure for the next ten years in some fine establishment with underfloor heating like the Milton Hilton.
Shame WeTT's funding didn't cultivate better marksmen in their police training; that whole last step could have been solved much more cheaply with a cardboard box and a really hot oven.
In other news,
Heath Ledger
bowed out of Hollywood with the apparent assistance of a large quantity of pharmaceuticals.
The body of Australian-born actor Heath Ledger has been removed from his New York apartment after dying from what is thought to be an overdose.


more

...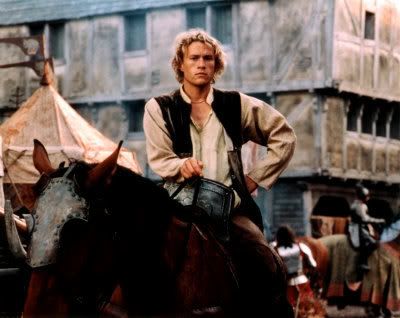 Maybe beauty, fame and money really can't solve all one's worries, eh, even if it can buy you a one way ticket to Eternity.